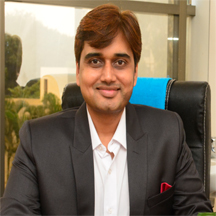 Dr. Shreyans Shah completed his MBBS from Dr. Vasantrao Pawar Medical College (Nashik). After that completed FCPS Medicine and LTMMC & LTMGH Medicine from Sion Hospital Mumbai
He also worked for some time in the Intensive Care Unit at Bombay Hospital (Mumbai). After that, he specialized in diabetes prevention, diagnosis and treatment, obesity and its treatment at Raheja Hospital Mumbai.
He has vast experience in ventilator management. Worked as a specialist in critical care, diabetes, rheumatism, asthma etc. He has received the fellowship of Member of International Diabetes Federation, Member of Indian Society of Critical Care Medicine and Member of Association of Physicians of India.
He is practicing at Navkar Residency, Raka Colony, Trimurti Chowk. At the same time, he is working as a director in Nims Hospital.
डॉ. श्रेयांस शहा यांनी डॉ. वसंतराव पवार वैद्यकीय महाविद्यालय (नाशिक) येथून एमबीबीएस पूर्ण केले. त्यानंतर सायन हॉस्पिटल, मुंबई येथून FCPS मेडिसिन आणि LTMMC & LTMGH मेडिसिन पूर्ण केले.
त्यांनी काही काळ बॉम्बे हॉस्पिटल (मुंबई) येथे अतिदक्षता विभागातही काम केले. त्यानंतर, रहेजा हॉस्पिटलमध्ये त्यांनी मधुमेह प्रतिबंध, निदान आणि उपचार, लठ्ठपणा आणि त्याचे उपचार या विषयांवर विशेष प्राविण्य मिळवले.
त्यांना व्हेंटिलेटर व्यवस्थापनाचा मोठा अनुभव आहे. गंभीर काळजी, मधुमेह, संधिवात, दमा इ. मध्ये तज्ञ म्हणून काम केले. त्यांना इंडियन सोसायटी ऑफ क्रिटिकल केअर मेडिसिनचे सदस्य आणि असोसिएशन ऑफ फिजिशियन ऑफ इंडियाचे सदस्य, इंटरनॅशनल डायबिटीज फेडरेशनचे सदस्य यांची फेलोशिप मिळाली आहे.
ते नवकार रेसिडेन्सी, राका कॉलनी, त्रिमूर्ती चौक येथे सराव करतात. त्याचबरोबर ते निम्स हॉस्पिटलमध्ये संचालक म्हणून कार्यरत आहेत.