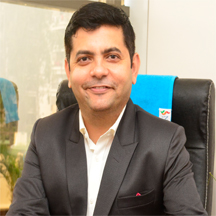 Dr. Sudarshen Aahire – ENT Doctor in Nashik received his MBBS from GOVT MEDICAL COLLEGE MIRAJ and completed his MS OTORHINOLARYNGOLOGY test with University Rank from the reputed B.Y.L.NAIR Hospital Mumbai.
Dr. Sudarshen Aahire, an ENT doctor and pediatric ent specialist in Nashik with 12 years of experience, is a young, talented, and dynamic doctor. Aside from standard ENT care and surgery, he specializes in the management of snoring and obstructive sleep apnea procedures, endoscopic skull base operations, voice-related disorders, voice surgeries, airway and swallowing problems, and voice-related disorders and voice surgeries.
Dr. Nishit Shah trained him in endoscopic sinus and skull base surgery at Bombay Hospital and Breach Candy Hospital. He has numerous research publications and prizes to his credit.
Dr. Sudarshen Aahire specializes in ear, nose, and throat problems as well as head and neck cancer surgery. This allows us to treat both fundamental ENT problems and complex illnesses that are typically only treated in tertiary care and academic institutes.
डॉ. सुदर्शन आहिरे – नाशिकमधील ईएनटी डॉक्टर यांनी सरकारी वैद्यकीय महाविद्यालय मिरजमधून एमबीबीएस प्राप्त केले आणि मुंबईच्या नामांकित बी. वाय. एल. नायर  हॉस्पिटलमधून विद्यापीठ रँकसह एमएस ओटोरहिनोलॅरॅन्जॉलॉजी पूर्ण केली.
डॉ. सुदर्शन आहिरे, 12 वर्षांचा अनुभव असलेले नाशिकमधील कान, नाक आणि घशा (ईएनटी) डॉक्टर आणि बालरोग तज्ञ, एक तरुण, प्रतिभावान आणि गतिमान डॉक्टर आहेत. ईएनटी काळजी आणि शस्त्रक्रिया व्यतिरिक्त, ते घोरणे आणि अडथळा आणणारी स्लीप एपनिया प्रक्रिया, एंडोस्कोपिक कवटीच्या बेस ऑपरेशन्स, आवाज-संबंधित विकार, आवाज शस्त्रक्रिया, श्वासनलिका आणि गिळण्याची समस्या, आणि आवाज-संबंधित विकार आणि आवाज शस्त्रक्रिया यांच्या व्यवस्थापनात माहिर आहे.
डॉ. निशित शहा यांनी त्यांना बॉम्बे हॉस्पिटल आणि ब्रीच कँडी हॉस्पिटलमध्ये एंडोस्कोपिक सायनस आणि कवटीच्या बेस सर्जरीचे प्रशिक्षण दिले. त्यांच्याकडे अनेक संशोधन प्रकाशने आणि बक्षिसे आहेत.
डॉ. सुदर्शन आहिरे हे कान, नाक आणि घशाच्या समस्या तसेच डोके आणि मानेच्या कर्करोगाच्या शस्त्रक्रियेमध्ये माहिर आहेत.
हे आपल्याला मूलभूत ईएनटी समस्या आणि जटिल आजारांवर उपचार करण्यास अनुमती देते ज्यांचा उपचार सामान्यत: फक्त तृतीयक काळजी आणि शैक्षणिक संस्थांमध्ये केला जातो.